Wildbirds & Peacedrums return with one of their catchiest efforts yet.
Le Vasco is a relatively new and difficult to pin down project. Their self-titled debut EP is available to stream and download for free above via their Bandcamp.
One interesting result of the alt-rap scene's thriving throughout the past couple of years is that many of its current incarnation's characteristics manifest themselves in other contexts. Take Le Vasco, for example: the group experiments with hip hop devices without allowing the genre to truly define their music. Rather, clear nods to its off-kilter and even abrasive side are expressed particularly in the production, with rumbling bass synthesizers, disorienting electronics, and somewhat industrial percussion each comprising the EP's instrumental makeup. Le Vasco grounds their idiosyncratic edge in a well-tuned sense of melody and harmony, with instrumentation establishing conventional emotional resonance just as comfortably on a track like "Goodbye" as it does unsettling eccentricities on "La Transe des Oiseaux." At the helm of the EP is Louise Calzada's especially eccentric vocal delivery, which ranges from erratic quasi-rapping to a serene and melodic approach. It ties together a release which represents a vitalizing refusal to commit to simple genre classification without abandoning a smart set of influences.
A new track from Norwegian singer-songwriter Jenny Hval. Her next album, Innocence Is Kinky, will be dropping April 19th via Rune Grammofon.
"I Called" is an exercise in noisy guitars, passionate singing, and strange vocalizations. Jenny definitely displays a knack for taking familiar rock and pop sounds, but turning them into something uncompromisingly weird. Enjoy!
Roomful of Teeth is an experimental choral group founded and directed by Brad Wells a few years ago. Their music makes use of an array of singing techniques. Not only does the group have a strong set of beautiful singing voices, but they're not afraid to segue into stints of throat singing, screams, or loud gasps.
This new, self-titled album of theirs was created via a series of guest composers. Among them is actually Merrill Garbus of tUnE-yArDs. Her contribution can be heard on the extremely chilling "Quizassa."
Find out more about the group right here.
Though Holly Herndon's debut LP doesn't have much in terms of consistency or length, this sonic experimentalist puts together some extremely interesting soundscapes, techno oddities, and vocal manipulations.
A clean, crisp music video for a fantastic piece of vocal pop from Jessie Ware's forthcoming debut album, Devotion, which will be out on August 13th via PMR Records. Check the track listing here. While I wasn't 100% impressed with her vocal contributions on that awesome SBTRKT album last year, the material that's dropped thus far from this forthcoming album has been pretty nice. Looking forward to hearing it in full.
Is jazz becoming relevant again? It seems like a bit of a chicken/egg situation right now, but in my life since my friends got into the excellent BBNG2, modern jazz has been sneaking into my listening. "Everytime I See You" is one of these tracks. It's a great romp through a pretty varied set of instruments. Keyboard, vocals and drums all get there chance to shine on this track. If this is something you've been enjoying recently (or forever) I don't feel like you'll want to pass up this track.
The song comes from Reeves' latest album, Mercury, which is a self-released album of both covers and originals. Grab it here, and check out the cover art below: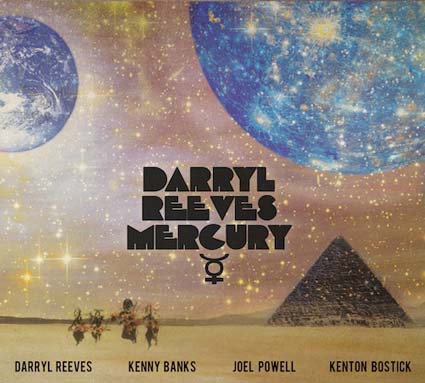 Brooklyn's Ava Luna has been releasing material, as far as I can tell, since about 2009. However, this Ice Level album is the first time I'm hearing of them. I couldn't ask for a better introduction, too.
There are points where the recording feels a little rough–especially with some slightly overmodulated vocals–but the group still comes through a sound that's equal parts baroque pop, smooth soul, and experimental pop. The group has definitely hit upon it's very own blend of sounds. There's a nice dynamic of male and female vocal harmonies throughout many of the tracks, and the female vocals "chirp" occasionally with a touch of Dirty Projectors inspiration.
To create some tension, the soulful vocals and sweet strings are matched with some noisy instrumentation. The drums have quite a bit of punch to them and the bass really gives some of these grooves force. Meanwhile, the synths and guitar seek to create a real ruckus. Just listen to the opening track and you'll hear what I mean.
Ice Level is out now, and you can grab a copy on Ava Luna's Bandcamp.
mmpsuf is a Lithuanian electronic music duo someone turned me on to via the TND Facebook page. I breathe a sigh of relief every morning I wake up and see we're still allowed to share music with one another on the Internet.
Back on topic: The duo has a new EP out on SoundCloud, and this specific track, "God's Retina," has some sweet vocals singing a somewhat painful melody. The foundation of looped, vocal coos make for a pretty chilling atmosphere. The beat behind it all is pretty subtle, too. The sound of downtempo is certain strong with this one.
Chill electronic beats, and a somewhat chilling vocal delivery coming through on the new Evy Jane 12″, which features the tracks "SAYSO," "OHSO," and two remixes. Enjoy! Look for the 12″ on February 13th through King Deluxe.