Ex-Moldy Peaches member Adam Green and Little Joy's Binki Shapiro has a new, self-titled collaborative album out, and "Just To Make Me Feel Good" is one of the lovelier tracks on it. It's just received some visuals via the music video above, and it's a cute split-screen affair that features images of Binki and Adam mirroring one another in loneliness.
On her debut album, Jessica Pratt lends her enchanting voice to a series of patiently fingerpicked arpeggios and momento-laden stories.
Tame Impala drops a new track from its forthcoming album, Lonerism, which is looking at an October 9th release in the US right now via Modular People. The Australian band's throwback sound feels incredibly punchy on this new track titled "Elephant." The guitars keep a steady, rock hard groove with some fuzzy distortion on 'em. The drums sound fantastic, and make it impossible to sit still during this 3-minute piece of vintage stoner rock bliss.
The organ is a great touch as well, and the more I listen to the track, the more it grows on me. Yeah, I wasn't a huge fan of the band's last album, which is mostly due to how steeped in Beatles worship it was, but I'm ready to enjoy Lonerism if the tracks bring a nice variety of sounds and a more distinct angle.
On this track from the forthcoming Foxygen EP, the bi-costal singer-songwriter duo evokes numerous sounds from rock 'n' roll's greatest icons, but still manages to lay a fun, eccentric spin on it all.
If you've been keeping up with my videos, then you know how much I've fallen for this new, up-and-coming singer-songwriter duo known as Foxygen. They've got a new EP titled Take the Kids Off Broadway coming this July on Jagjaguwar, but the band has this EP streaming in full on Bandcamp right now. So feel free to listen, pre-order, and all that jazz.
Here is a track from Jagjaguwar's latest signing, Foxygen. They're a songwriting duo consisting of Sam France and Jonathan Rado. First track, first listen, it was love. It was love, guys! But I have to admit I'm sure that has a bit to do with how familiar the territory these guys are trudging in is to me.
Foxygen may be young, but they've got old souls, embracing the artsy rock and pop sensibilities of the Velvet Underground while simultaneously bringing the gusto of old school Rolling Stones. Oh, yeah, and the impressive, varied instrumentation and production of a great Kinks record like Lola Versus Powerman and the Moneygoround (Part One). While Foxygen's style has been done time and time again, they're undeniably eccentric and creative with it. It's to the point where they really manage to leave their own mark.
The opening muddy guitar and wailing synth on "Make It Known" give way to some pretty dramatic vocals. It's a nice start to the track, but then Sam France's voice reaches down deep and starts delivering these passionate, Jagger-esque vocals that I can't help but fall for.
Things get weirder with strange vocal noises, some "ooh la la" chorus vocals, and some swelling horns. The track manages to change gears quickly around 1:20 mark, and becomes a straight up rocker complete with strangely mixed hand claps. Some saloon-style piano interjects into the middle of the track and brings the song into its third phase. Screams of "TALK TALK TALK" make things feel pretty liberating and exciting.
A large, church-sized chorus appears almost out of nowhere, and just shines gloriously. A big, horn-kissed, and jazzy finish brings the track to a close, giving the track a feel of a stage show or Broadway performance. Every musical transition feels like a costume change or an attention-demanding plot-twist.
Wow! Just wow. These guys not only have penned a tune thats as memorable as it is varied, but the production on here goes above and beyond. Way beyond. It has a vintage, messy feel; however, it's also incredibly detailed. Almost too detailed for words. I could listen, listen, and listen again, still picking up new sonic nuggets.
Scope the cover art to this forthcoming EP, Take the Kids Off Broadway, below. Look for it on July 24th.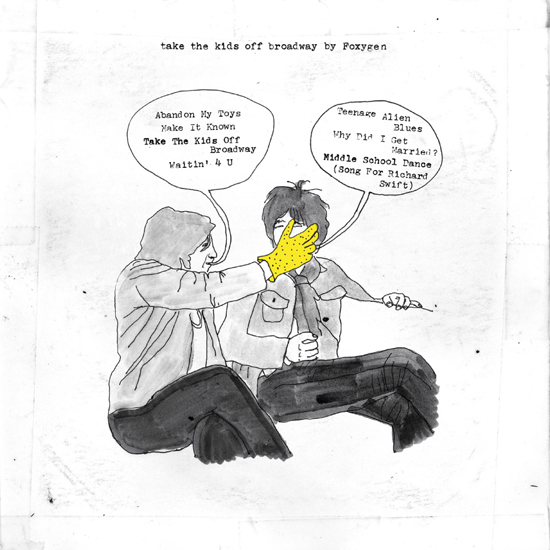 Above is a new track from Virginia Band's latest cassette single, "Divination." The band features ex-members of Lets Wrestle, The Proper Ornaments and La La Vasquez, and has a moody atmosphere that has chilled me to the bone. Though the band is not the first to revive this type of smoky, old school dark rock, the hook here hits with some burning passion. I love the organ arpeggios just after the song explodes on the chorus, too.
This new single can be picked up via SEXBEAT.
Check out the brand new single from Two Wounded Birds via the video above. The track is titled "Together Forever." The surf-pop emulators continue to deliver the goods, and channel their inner rock 'n' roll idols. The video is a humorously blatant reference to the legendary promotional tape of the Ramones' "Loudmouth," too.
Twerps are a 4-piece garage pop outfit from Melbourne Australia, and "Dreamin" is the first track to drop from the group's self-titled debut. It's out via Chapter Music in Australia and Underwater Peoples in the United States.
With the strum of an acoustic guitar, strong snare beats, and melodic vocals "Dreamin" bring back memories of the 60s and the summer of love. So, don't spill your wine, and dig on it here via the Bandcamp stream above.
Stream: Stevie Jackson- "Try Me"
After years of being a pivotal member of the Glasgow indie pop group Belle & Sebastian, guitarist Stevie Jackson is making is solo debut with the hilariously titled (I Can't Get No) Stevie Jackson. "Try Me" is one of the tracks from it, and it's got a nice, driving bass and drum section. The lyrics are pretty catchy as well. It's got the light, fun attitude one would expect from a Belle & Sebastian song, but this is a little rougher around the edges–and I mean that in a good way.
Stream the track by following the track above, and grab a copy of Stevie Jackson's new LP over here.